Psychic Medium, Claire - Milton Keynes
"It's Time" A short story by Claire Evans
The moonlight pierced through the slight opening in the blinds, and silver light outlined her beautiful, yet restless body. She hadnt slept for days and I was really conscious not to wake her. I leant over very carefully and gently kissed her tear stained cheek. It pained me so much seeing her like this, but there really wasnt anything I could do. Not anymore.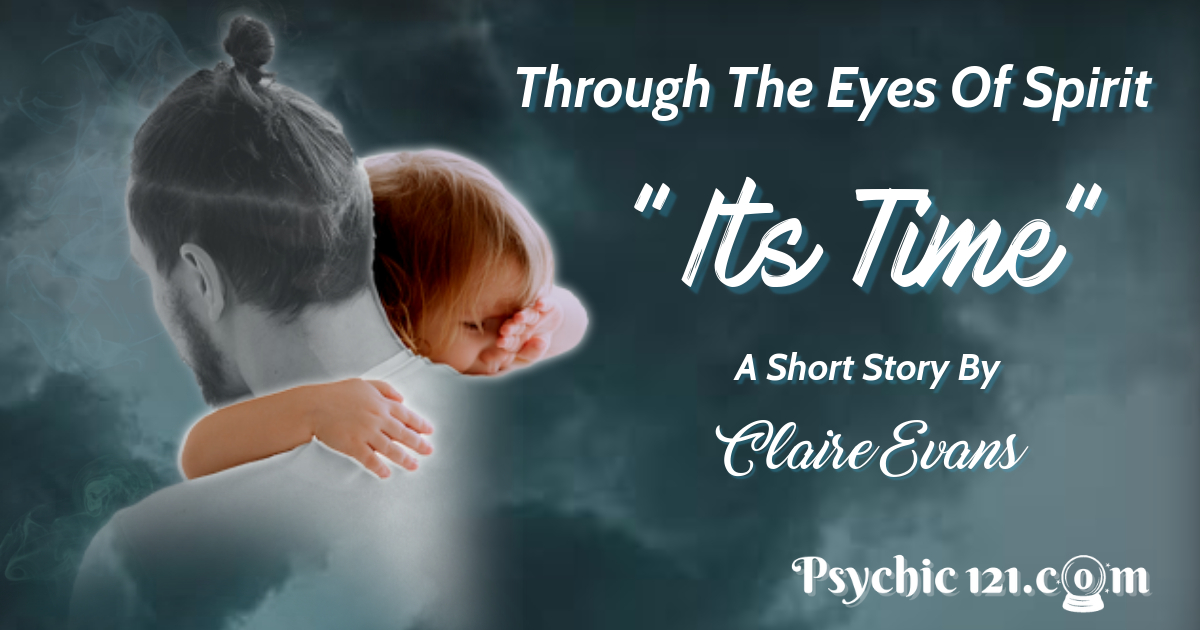 "Goodbye my love" I whispered. Saying my goodbye and not knowing when I would see her again was heart wrenching, but I knew it was time. She stirred and for a moment I thought she was going to wake, so I kept still. She turned and sighed heavily, then settled back into her slumber.
I so wanted to wake her and make her see. See I was real. Not in her imagination. I was here.
I loved her so so much. Leaving her was the hardest thing I ever had to do but it was time. Not knowing when I would see her again, I felt a sharp pain in my heart. I'd spent many nights watching her, crying herself to sleep and now I had to go. But first i needed to check on the children one last time.
I quietly made my way down the corridor and peeked around the door frame. Their room was lit by a small unicorn night light which cast eerie shadows along the wall. As I got closer to the 2 single beds very close to each other, I felt like I could I hear their heart beating, pounding like a drum in my head. I could feel their lungs filling with every breath they took. I could see myself in their dreams, smiling at them, holding them
"Daddy" molly sighed as she pulled the cover away from her face. Her eyes closed tightly.
"I'm here princess" I whispered.
" I miss u daddy" I heard her say, her voice quivering.
"Miss u too banana head. Time for me to go now". I held back my tears. She had nestled back into her pillow and had fallen back into her dream. A memory of us playing on the beach last summer.
I turned to my boy. He was 2 years younger. Only 5. "Hey champ.. time for me to go" I breathed into his ear. I wasnt expecting it but he sat upright. Staring into the dark room.

"Daddy!! Daddy is that you??" he cried out.
I tried to comfort him, tried to hold him, but I couldn't feel him under my fingers, couldn't feel his warmth in my arms.
"I'm here champ. I'm here!!"
He jumped out of his bed "MUMMY!! " and ran out of the room along the hallway into our room. My little angel had woken too now and ran after him. Through the walls I could hear their mum comforting them through her own sobs, how much they missed me. The pain and emptiness filled my heart and I knew this was the time for me to go.
In that moment I felt a warmth behind me and a pulling sensation over my whole body. The room lit with golden Rays of light, licking at the walls behind me.
"Come now son. Its time"
I turned to see my father, his arms outstretched. A beautiful golden glow outlined his body, which was years younger than I last remembered seeing him.


"Its time" he smiled at me. I hadnt seen him for 10 years. The last time he was in so much pain and suffering and now, looking at him, his face was soft and peaceful.
He reached out his hand and before I walked towards him I heard the cries from the room next door. Knowing I was leaving them in so much pain was so hard but I knew for them to be able to heal, I needed to accept my fate and go be with my dad and other loved ones before him.
I know in time we will all be together again and there will be times I can sneak back and say hi and let them know I'm ok, but for now, Its time. I'm going home.

Written By Claire Evans from her "Through The Eyes Of Spirit, short stories"
If you enjoyed reading this, you may also enjoy "The Amazing Super Power Of Angels"

More about the writer of "It's Time"