Ireland - Psychic Medium, Samantha
The Royals have always been a source of fascination and anyone who steps into the family of Windsor has to be prepared for the flash of bulbs and glare of the limelight, but what happens behind closed doors is never reported.
So we asked Psychic Sam too give us her psychic prediction for Meghan Markle.
What will happen in all parts of the Duchess of Sussex's life?

NAME Meghan Markle BIRTHDAY August 4, 1981 BIRTH SIGN Leo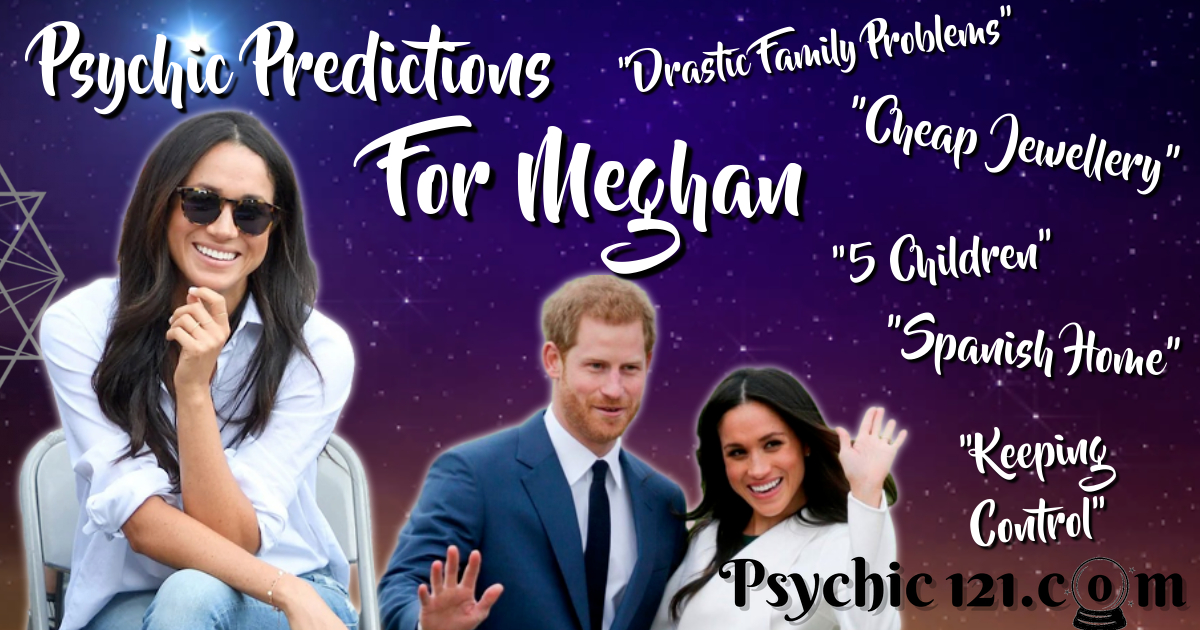 Sam Predicts
More problems with her father, five children and a home in Spain.
Meghan will continue to have difficulties with her father, Thomas. I feel no matter how much she tries to cut all ties with him, he will continue to bring up matters in any way he can, mainly through the press. There will be allegations made, and I certainly feel there will never be any chance of reconciliation until very much later in his life, it will be a time to make peace.
Her relationship with Harry goes from strength to strength. I see another pregnancy with some news announced late autumn, and I also feel that they will not stop at two children but will have five!!
They continue to spend their time between America and the UK and I also predict some connection with Spain. They may decide to acquire property there, this is a decision I feel that they will ponder for a while. She will also find herself in Monaco and there will be some involvement with its' Royal Family too.
Meghan to keep control, trips to Manchester and homelessness.
Meghan will continue to raise the profile of the couple and is keen to distance herself and her family from any negative media reports about them and the Royal Family. I feel that the Queen is actually quite fond of her and also does not appreciate the press intrusion as does Harry for obvious reasons. This is why they are keen to do their own PR, maintaining their own social media accounts and keeping people up to date with their engagements and plans.
The couple will continue to do many things together. Meghan's involvement with charity will extend to engagements related to children's charities and raising the profile of difficult situations that unfortunately some children find themselves in. She will be making a trip to Manchester and will be involved in organising something to do with a charity led organisation there as well, looking into the causes of homelessness and finding solutions.
Christmas with William and Kate, cheap designer jewellery and a high street brand.
For Christmas I see that Meghan and Harry will be spending some time with William and Kate despite what the media say about their relationship. Much is guarded about what goes on and it is fair to say most of it is unfounded stories.
Meghan will also venture into other projects, one I see for her is creating/designing her own jewellery. I somehow sense that it is something she has wanted to do for sometime and that she is also keen to make it reasonably priced so that it does not exclude people because of their budgets.
This also goes hand in hand with a fashion range, aimed at women. She has a very keen eye for detail and has lots of designs that she is eager to put together which will ultimately find its' way onto the high street.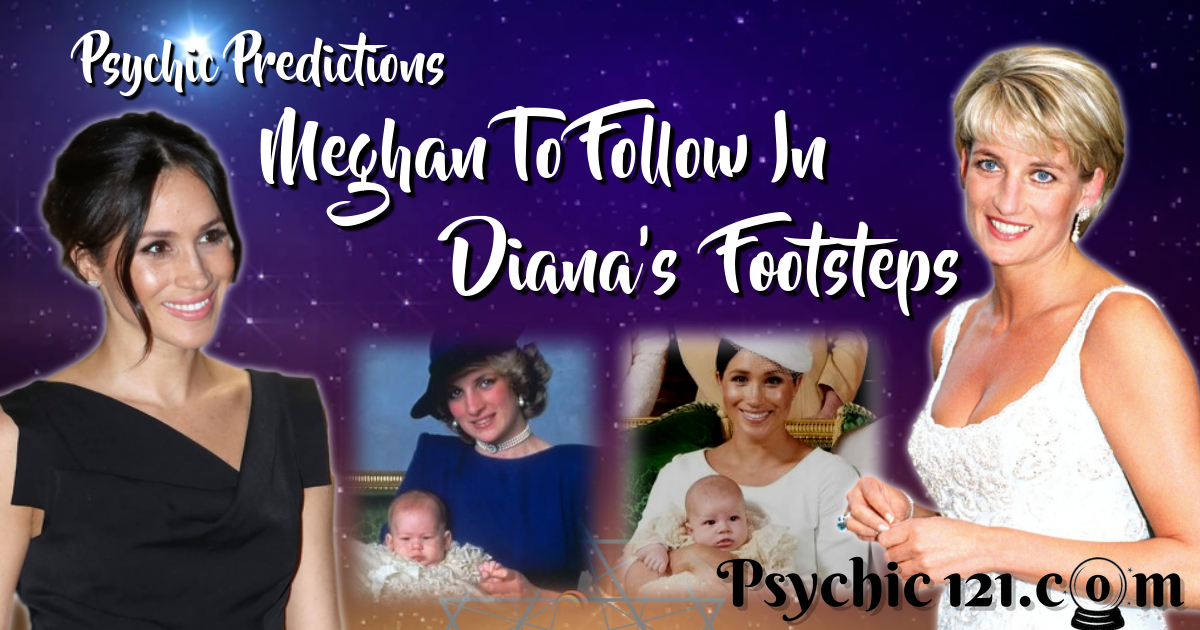 Standing out from the crowd, following in the footsteps of Lady Diana and Psychic consultation.
Meghan is undoubtedly carving out her own career and is sure to let it be known that she doesn't rely on anyone for her money, she is a very independently minded person, and incredibly empathic. She has a love for animals especially horses, and she is adamant that animals will play a big part in her children's lives. I sense she will be offered another film role but she will turn this down as it is "no longer for her". She also loves flowers and is never happier when she has a well stocked garden to wander about in.
Much like Diana, I get that Meghan also consults with a psychic on a fairly regular basis. She likes angels and I feel that she has inherited a strong spiritual sense from her Mother. She is very intuitive and has her own guides, she I feel senses this but doesn't always recognise what they are trying to show her!!
She will work on this in due course, but right now a lot of her time and energy is devoted to being a wife and mother.

Written August 2020 by Sam.
If you enjoyed reading this, you may also enjoy ""It's Time" Through The Eyes Of Spirit" a short story by Claire Evans