Psychic 121 "Spirit and Signs" Feature Editor
Madonna - Grandchildren, Spats With Trump and A New Album.
Madonna is one of the world's most famous women. With many tabloid headlines that follow her around the world, leaving many of us asking did her spiritual advisers see it coming? And what will be the next headlines for this once pop princess, now queen of the world?
We asked Psychic Medium Pascha and Psychic Reader Wendi to tune into Madonna's energy and give us a few predictions for her personal life and career.
NAME Madonna BIRTHDAY August 16, 1958 BIRTH SIGN Leo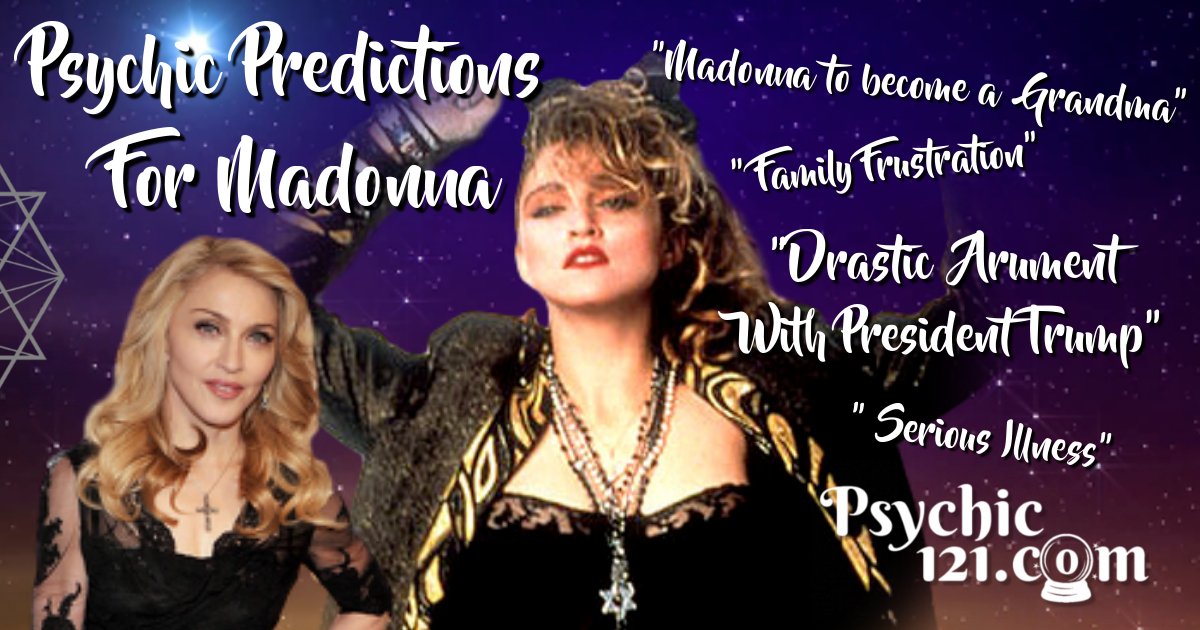 We started by asking them to tune into Madonna's home and family life.
Pascha said:
Madonna's children will give her cause for concern over the coming year. Rocco will be involved in a minor skirmish with the law and one of them will have a serious illness. It will baffle doctors for some time before a diagnosis is made, although they will recover.
By the end of next year, it's likely that Madonna will have to come to terms with the idea of becoming a grandmother. Whilst she will be horrified at first (as we know, she works hard to maintain a youthful outlook), she will quickly become excited by the prospect.
I also see a public spat with her brother, Christopher over his portrayal of her in a media interview in the last quarter of next year. This has happened before, but this time, her patience will snap and there will be no reconciliation.

I feel that Madonna will lose two close family members in the next 12 months, both males, and neither death will be a complete shock. The funerals will be the last time she sees Christopher in person, although the losses will bring her closer to her other siblings.
Wendi breaks it down by month to give us a little more insight.
Madonna does like to keep her home-life private in some respects and family means a lot to her. Like the lion she is, she would defend and protect her family.
October 2020
a positive month with her family needs being met. Her caring nature will come into the forefront now as homelife seems more important than ever.
December 2020
In the past I feel Madonna has been hurt and this month will see karma rolling in, which may entail this hurt being shown in the public eye.
June 2020
This month sees the start of either some new work or rekindling her current relationship. A feeling of being on the right path and loving what she does coming to the forefront now.
Charity has always been important to Madonna, but will this continue?
Wendi says:
Madonna likes to help others and has a caring side to her nature. I feel her charity work will expand and I do see some recognition for this charity work coming to her.
In November we will see her profile being raised even more. Stability in every area of her life will continue. Caring for others also includes animals and I do feel that an animal charity will benefit from Madonna's generous nature this month.
Pascha says:
Madonna likes to do her bit for charity, having worked with orphanages in Africa for many years, but a chance encounter with a child closer to home will turn her attention to children's services in the USA, leading her to campaign for change. I also see her having a public argument with Donald Trump in November. Donald will not win that one.
And now Madonna's career, will she carry on wearing all her crowns with glory?
Pascha says:
In the first three months of next year, she will appear in public in a 'shocking' outfit. She will do this deliberately to make people think about how they judge women and age. I have a feeling she will revisit her conical bra days in a modern burlesque outfit.
I am expecting another book by Madonna, written by the woman herself. It will reflect on her life and achievements but will also look at the topics of how women are valued in society, particularly as they age. It will be a thoughtful tome with advice and inspiration but will also have sharp words for those who view older women as 'past it'. It will make the media reassess how they portray women and get people talking about what 'beauty' is. About time too!
Madonna has had several changes of image and musical direction over the years, and there is another on the horizon. This time, she will soften her image and her music will have more 'soul' than previous work. I see her image moving from the sharp angles of 1940s Hollywood icons to the fluffier, free-spirited, socially-conscienced goddesses of the late 1960s/70s. Madonna channels Hanoi Jane Fonda in a Faye Dunnaway outfit.
Wendi helps us look at the month that she will see most changes to give us hints of what is to come.
In Madonna's career she has always stood out, being unique in her songs and videos. Often causing controversy, i.e. the Eurovision song contest. However, she does not let this bother her and follows her dreams.
I feel in the next 12 months she will be looking at expanding her career in some other way. Travel is important to her and I see opportunities opening up.
August 2020
I feel something quite cataclysmic will change, but in a way it will open her life up for new possibilities. There will be closure on the past as it was not meant to be.
September 2020
This is a month where life will become balanced. I feel this month will be spent focusing on her charity work and in helping others to raise her own profile.
January 2021
The New Year sees the start of something very profitable for Madonna and also a sense of feeling grounded in her music. It will be an opportunity that will not take much thinking about as I feel she is now ready for this.
February 2021
Madonna will embark on a brand new adventure, giving her the feeling of being reborn as she enters this new phase, anxious and excited, this will give her a new lease of life and also will have a knock-on effect with a new style in music.
May 2021
An offer of work comes in to remind her she is not passed it yet! She may decide to think about this as it will be quite challenging.
July 2021
Those plans and dreams that were thought of last year will now come into fruition with travel being at the forefront. There still seems to be so much growth and opportunity out there that she didn't think would be possible at this stage in her life, but reminds her it will only stop when she stops
Pascha added:
The next 18 months will be a time of reflection for Madonna. She will come to terms with the ghosts of her past, accept herself and move into a period of contentment, tempered by a desire to bring contentment and social justice to others.

If you would like more information about Pascha or Wendi.
Please click the buttons below to see thier profiles.
If you enjoyed reading this, you may also enjoy "Psychic Predictions For Danny Dyer"